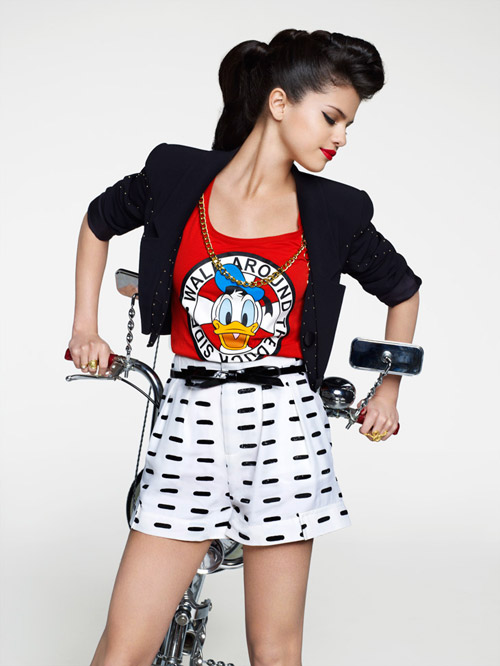 Selena, the teen fashionista reveals her fashion weaknesses, and what goodies hang in her rather large closet.
Words: Aspen Weatherburn
Who is currently your favorite designer?
'It has to be Marc Jacobs. I absolutely worship him right now. I mean his clothes are absolutely perfect for me. I also wear the fragrance Daisy by Marc Jacobs on a day to day basis.'
Are you a big internet shopper?
'It is a very rare occasion that I can go shopping, so the Internet would make things a lot easier, but I just can't do internet shopping. I have to feel the fabric and hold it in my hand. So, I stick to store shopping.'
What is your biggest fashion weakness?
'Shoes! I love shoes! On my last trip to the UK recently, I went into All Saints and got some combat boots. They are so cute and so comfortable. I also have some black and silver pumps that I bought on sale in BCBG (Bon Chic Bon Genre, Max Azaria) for $70. They are amazing, really classic and they will never go out of style, and you can wear them with everything.'
What are the key items in your wardrobe?
'I have a black blazer from Chloe that I am obsessed with. It has this polka dot lining, so when I roll up the sleeves the lining shows – I just love it! I also have a red snood that I have been wearing a lot. I got it from American Eagle, and I just can't seem to take it off – it's a bit like comfort clothing.'
You must have a pretty big wardrobe?
'Actually, I have a whole room. It was a guest room, but now it is my clothes room. It is great because I can spread it all out, which is much better as it was all jam-packed in my closet. I know it makes me sound like I have a lot, but not really. It works because I can now see what I have.'
Are you sent a lot of freebies?
'I occasionally get sent stuff. Usually from new designers, so the pieces are more often than not a lot of fun. If I don't like them then I always give the pieces to charity, or my friends.'
Do you enjoy shopping in London?
'I like Top Shop and All Saints.'
Would you say you are a trendsetter?
'I love clothes and I love fashion. I love throwing things together but I am horrible at keeping up with trends. I tend to find a fashion within my own range.'
You just launched your own clothing line, first in America and now here. Tell us about it.
'All of the clothes are very eco-friendly, and the designs are very classic. I have designed a whole load of stuff like hats, scarves, jewellery, boots, leggings, jeggins, jeans, and skirts. It is a big range, filled with loads of timeless stuff.'
Any particular items you used for inspiration?
'Yes. I have this BCBG (Bon Chic Bon Genre, Max Azaria) top, which is a very light lavender colour. It's sort of a sweater vest and you can dress it up or dress it down. I used that term a lot when we were at the drawing boards. I think clothes should have the versatility to dress them up and dress them down.'
Who would you like to see wearing your fashion range?
'I would say The Hills star Lauren Conrad. She would look really amazing in my clothes because she has that very simple stylish look. I also think Rachel Bilson would love my tops. I have this floral one I think she would look great in.'